Home
---
What Story and Why
---
How to Tell
---
What's New
---
Blog
---
Life Story Resources
---
Research is Fun
---
Get Started
---
Highlight Site
---
Sample Writing
---
Free Newsletter
---
Articles
---
About
---
Contact Us
---
Privacy Terms
---
[?] Subscribe To
This Site
The "Your Life is Your Story" Blog Archives
© Tom Gilbert

Read about quality family history and life story news, views, methods, products, links, services

...and whatever else catches our fancy of personal historian
March, 2021
current blog entries
blog archive index
---
Sister Super Fan - Loyola's Chaplain and Very Special Jean Dolores

March 25, 2021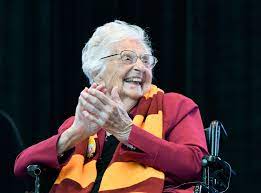 Chances are you have heard of her. Sister Jean Dolores, the "Basketball Nun" and longtime chaplain for the Loyola Ramblers, the college basketball team making another

cinderella

run in the NCAA Basketball Tournament.

The Ramblers have already achieved a couple of upsets this year, including defeating #1 seed and in-state rivals Illinois. Next up they hope to win and advance to the Elite Eight. They've been here before. The last time was in 2018. What they have in common with previous Loyola lineups is the inspiration and dedication of their longtime spiritual guide. Sister Jean Dolores is a Catholic nun and an avid basketball fan. She's 101 years old and still going strong, undoubtably powered by her strong faith and her contagious enthusiasm for the sport.

More importantly, she is clearly following what she deems her life calling. Helping others and looking at the world through her eyes. It is very much worth the read to go to the Loyola Chicago University website and find out for yourself.

Sister Jean has frequently been interviewed and now with the Ramblers advancing in the "Big Dance" as the tourney is known during the annual March Madness she is once again in the spotlight. She's delightful on television and answering questions with good humor and humility. What a wonderful person and a real super fan - Sister Super Fan.

---

Tandem Running with Dick and Rick Hoyt

March 18, 2021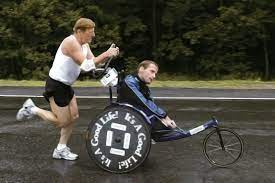 I was 52 in 2007 when I ran my first marathon. I thought it was a big deal. After all, most people never do that, run 26.2 miles. Most people actually think it's a bad idea, maybe even a little looney.

Although my accomplishment was impressive to me it certainly pales in light of the amazing running of

Dick and Rick Hoyt

. Rick was born a paraplegic due to cerebral palsy. But he always wanted to do things other people did. And his father, Dick Hoyt, obliged. More than obliged. He and Rick became a tandem running team like no other. They called themselves

Team Hoyt

and over the years they ran 32 Boston marathons, countless other races and quite a number of triathlons, including Ironman Triathlons, the pinnacle of distance events.

How did they do it? Rick's father pushed Rick in a wheelchair. His first ones were not sophisticated, but eventually they got a custom racing chair. And for bike rides he could tow him in a cart. For the water events Dick would swim

and

pull his son in a rubber dinghy. It's so amazing, both for the physical determination and ability, and the beautiful expression of love and dedication to do that for his son.

"I want to do whatever Rick wants to do," said Dick.

Dick Hoyt passed away yesterday at the age of 80. Rick, now 59, told his father that when they were running he felt like his disability disapeared. He was free and "flying". That's so awesome.

Over the years they inspired a lot of people. I remember first seeing this father and son tandem team on a special about the Hawaii Ironman. I couldn't believe it and it was so incredible. The joy on Rick's face when they crossed the finish line and the obvious sacrifice Dick made and his great love for his son was priceless.

The Boston Globe tribute is a worthy read. Isn't it great when we see people overcome such odds and live full lives despite the obstacles? What a great life and legacy.

---

A Teacher's One Year Pandemic Marker

March 12, 2021

I am, in addition to a life story enthusiast, a regular journaler. I feel a constant need to write my thoughts about my life experiences. So naturally one year ago, right as my school was finishing up our March Parent-Teacher conferences, was a day that was duly recorded in my computer journal. Now, one year later, I can and did look back at what I wrote. This a teacher's one year pandemic marker.

Writing on a searchable and powerful software has been satisfying for me. I've kept journals for many years, but in 2009 I started using

The Journal

and it has done the job quite well. On March 12, 2020 I noted that we had received word that our schools were closing to in-person teaching. That made the coronavirus pandemic very real. I had not yet met anyone who had caught Covid. But now I knew things were spreading rapidly and so were plans to try to control the spread here in New Mexico.

Suddenly it was like a "big pause". I wasn't going to be heading back the next Monday to teach the kids I'd been instructing for about eight months. In fact, everything was suddenly on hold. Spring Break was still a couple of weeks away. But this was a break too. Not a planned one. But a necessary one.

Already the district, administration and teachers were scrambling to create some kind of digital learning, what eventually became our online remote instruction model. Teachers can think quickly on our feet. It's really an important ability when you never know what will happen on a day-to-day basis. We are big on planningb and teachers learn quickly to have plan B, C, D and E. Pivot is one of our favorite maneuvers.

My thoughts back then were how life suddenly seemed surreal. "An historic and strange time" - a direct quote from the journal entry. I was already considering both the health and economic impacts. And what would it mean for our social and family lives? I also noted the news coverage of people raiding the store shelves and hoarding things like toilet paper.

Well, a full year later I have the benefit of hindsight. So far I consider myself one of the lucky ones. I've stayed healthy. My kids and grandkids are okay. A few other family members have had mild cases of the virus. I have been able to teach and in the digital manner it's been quite the learning experience for me and my students! For those naysayers who think kids aren't learning anything I must strongly disagree. Some are learning more than others. But learning is happening. Instruction is taking place. Life lessons are being imparted. Digital skills are blossoming. And we all should be looking at life with a little more clarity. Nothing is guaranteed and stuff does indeed happen. Sometimes it's not a big deal.

Sometimes it is a very big deal.

It has been quite a life experience for me. Another line from my journal entry that day was, "I am looking at this time to be able to read more, write more and spend quality time with my wife." Done, done and done.

This is a teacher's one year marker of the pandemic along with the hope for better days that I see are coming.

---

Celebrating Women Medical Pioneers

March 8, 2021

Today on this

International Women's Day

we salute many important women who have helped change the world with their contributions to medicine. There are so many amazing women who have contributed in countless ways over the course of history, but since we've been battling the Covid 19 pandemic this past year I thought we should shine a light on these women medical pioneers.

The first woman in the United States to be granted an MD degree was Elizabeth Blackwell. She was motivated to pursue her degree in medicine after a deathly ill friend insisted she would have received better care from a female doctor. Blackwell was turned away by over ten medical schools, but persevered to earn her doctorate.

The first African American woman U.S. doctor was Rebecca Lee Crumpler. She was the target of plenty of racism and sexism in the years following the Civil War, but she used the experience to inspire her to keep helping the suffering patients she treated

Another African-American first was Jocelyn Elders who was appointed surgeon general in 1993. She followed the path paved by Antonia Novello, the first woman surgeon general who also was the first Hispanic appointed to the post.

There are many others and you can read about some of them at the AAMC website with an article that celebrates 10 women medical pioneers.

---

Holding Onto Nostalgia

March 5, 2021


Holding on to Yesterday
- that was a great song by Ambrosia. It's also on my mind as I reflect on the past. We all grow up influenced by the music and culture we are exposed to during our formative years. That age group is typically anywhere from nine to maybe our early twenties. Certainly we continue to be influenced before and after that by various things like family, school and society. Clearly major events, such as our current coronavirus pandemic now hitting the one year anniversary, will leave a mark. Nevertheless, the power of music seems to really cement certain key memories and feelings during those years of youth.
We call it nostalgia when we look back, especially with a bit of longing for those days. I find that I both wince at painful or embarrassing recollections, while also feeling wistful as I contemplate the growing pains I was going through. As a child of the 60's and 70's and someone who spent over thirty years in radio broadcasting the music of those times heavily influenced me. While I enjoy and continue to listen to newer creations, I still recognize the power of the music from my early years.

| continue reading |
---