Home
---
What Story and Why
---
How to Tell
---
What's New
---
Blog
---
Life Story Resources
---
Research is Fun
---
Get Started
---
Highlight Site
---
Sample Writing
---
Free Newsletter
---
Articles
---
About
---
Contact Us
---
Privacy Terms
---
[?] Subscribe To
This Site

The "Your Life is Your Story" Blog Archives
Read about quality family history and life story news, views, methods, products, links, services

...and whatever else catches our fancy
May 2010
current blog entries
blog archive index
---
May 30, 2010


Veterans History Project

Memorial Day is a time to remember those who've served in military service. Many gave their lives for their country. Some veterans gave of themselves in combat and in service that came at a cost. Preserving the stories of war veterans who have a story they want to document is the work of the Veterans History Project.

The Veterans History Project collects and preserves the extraordinary wartime stories of ordinary people. It is a project of the American Folklore Center of the Library of Congress. The United States Congress created the Veterans History Project in 2000 and it is an ongoing project. The project relies on volunteers to interview, record, compile and donate materials. All are encouraged to participate: veterans, civilians, adults, young people, men, women, scholars, students, amateurs, and experts. For an "up close" look go here.
---
May 25, 2010

Personal History Awareness Month

The month of May is set aside by personal historians as the month to generate awareness about the importance of personal history. The Association of Personal Historians (APH) officially recognizes this month and encourages people to do something to preserve their personal and/or family history.

I consider life story capture to be something of a personal mission. Everyone has a story and I think it is so important for us to record, preserve and validate our stories. How will people remember you, your parents, your grandparents and other ancestors?

Many people get overwhelmed when they begin to contemplate a life story project. I can sympathize. But that's no excuse for not doing something. Any project begins with some basic steps. The way to get started is to – get started!

First of all, consider that your life story project does not need to be perfect. Too many people want a perfect end product, maybe even a bestseller. Well, not to burst anyone's bubble, but nobody's life is perfect. And your written life story (or audio, video, scrapbook, website or other means of capturing your story) does not need to be perfect. Quality? Yes, of course. But don't be a perfectionist. The main thing is to commit to doing something. | read more |
---
May 24, 2010

Sometimes a person's traumatic life story can offer hope to others. That's certainly true for Ashley Rhodes-Courter, a survivor of a miserable childhood with multiple foster homes before finally being adopted by loving parents at the age of twelve. Her memoir, Three Little Words (published by Simon & Schuster and available here), was a bestseller and now is being widely read middle and high school classes as part of the "One School, One Book" program. The author recently graduated college with honors and is thrilled her book is being used this way (see story at Tampa Bay Online).

If your life story has been one of great challenges you can use it to help others who face difficulties. Find out more about Ashley Rhodes-Courter at her website, rhodes-courter.com.
---
May 23, 2010

Lost Finale - Life's Strange Twists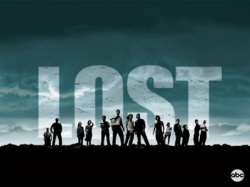 Lost,the television series that has provided plenty of twists, turns and surprises, has its series finale this evening. I've loved this innovative show from the very start. Sometimes you get that rare series that is different from the typical TV fare. And "Lost" has certainly been that.

It is not just the unusual events that happen on the mysterious island. It is the character development, the back stories, and as we discovered later in the series - the flash forwards and alternate life stream stories - that make the show so interesting.

Each of the key characters has strengths and flaws. Jack is a natural leader, but he questions himself and the purpose of his life constantly. Kate and Sawyer both have a dark and criminal path. Hurley is lovable, but he feels both cursed and blessed. Locke was a true believer - and maybe that got him killed. His body is now used by the evil and manipulative purposes of Jacob's brother, formely a man, but betrayed by Jacob and turned into a "monster". And look at Benjamin Linus. Sometimes compassionate, but just as quickly a cold-blooded killer. There are deep flaws and great strengths in the others, too - from Sayid to Sun, Jin, Desmond and Richard. Lots of complexity. Isn't this just like real life? Maybe that's what resonates so much for me. Our lives are indeed our stories and we each must travel our own path. But we intersect with others and all kinds of strange, wonderful, difficult and surprising things happen along the way.

If you are also a "Lost" fan enjoy the finale. I'm eagerly anticipating it. Perhaps like you, I will think about llife and my own character traits. The best of us have a bit of bad and the worst of us have some good. It's truly a tapestry.
---
May 17, 2010

A Might Roar is Silenced

I spent most of my early radio career at radio stations featuring hard rock and heavy metal. As a result I became quite familiar with the pounding drums, thumping bass and screaming guitars. But the spotlight for most heavy bands is the lead singer. A certain amount of bravado and strut accompanied by a big voice has been key for most of the metal frontmen.

One of the biggest voices belonged to a man who was short in stature. Ronnie James Dio could belt it out with the best and his lyrics often dwelt with imagery that fit the brooding and gothic themes of heavy metal. Dio was lead vocalist for Rainbow (a band started by guitarist Richie Blackmore of Deep Purple) as well as a few stints with Black Sabbath (he replaced Ozzy and then left and came back twice).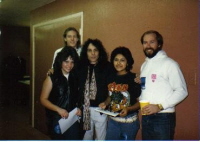 The little guy with the big voice (some called it a "royal roar") - and big heart - passed away from stomach cancer on Sunday. I found out about it first when I checked my Facebook account Sunday morning. A friend and fellow broadcaster I worked with twice (Michael Davis) posted a tribute along with a picture from the mid 1980's of contest winners posing with Ronnie James Dio, Michael and myself backstage at an Albuquerque concert. That's me on the far right (when I still had hair!).

Dio was a gentleman and very articulate. I had good chats with him over the years and when I was program director at the legendary Los Angeles hard rock station KNAC we even treated he, his wife and band to a dinner at Medieval Times (Dio loved medieval history and themes). Fans of the singer are remembering him. It has brought back a lot of memories for me. Last summer I took my son along to see him with his Sabbath bandmates when they toured as "Heaven and Hell".
---
May 14, 2010

First Compleat Biographer Conference

I get The Biographer's Craft newsletter in my email box each month and there is always some interesting news about various biographies and biographers. For instance, the May issue has an interview with T. J. Stiles, this year's Pulitzer Prize for Biography winner for his The First Tycoon: The Epic Life of Cornelius Vanderbilt.

BIO (as the Biographers International Organization call themselves) is hosting their first-ever conference in Boston starting tomorrow, May 15. They plan to focus on the practical aspects of the craft and art of biography (more here). I'm not a member of BIO, but the organization certainly is akin to the personal history work I do. If you are interested in receiving The Biographer's Craft newsletter (it's free!) visit this page.
---
May 8, 2010

Celebrating Moms Courtesy of StoryCorps

Just a couple of days ago I mentioned that StoryCorps will soon be in Albuquerque to record Latino stories as part of a current cross-country tour with one of their cool 1950's Airstream trailers fitted with a recording studio. The rapidly growing legacy of StoryCorps includes 50,000 and growing oral recordings from everyday people. Over the years they've had quite a few mothers share their stories and they have gathered many into a new release,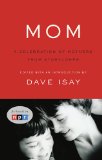 Mom: A Celebration of Mothers from StoryCorps. Its in bookstores now and would make a fine Mother's Day gift.

The Audio Transcription Center has done a significant amount of transcribing of audio from StoryCorps and they spotlight it here (with no small amount of good humor and wit). Always nice to hear about fine contributions to the body of personal history work by fellow APH members.

In case you weren't aware, NPR (National Public Radio) regular features stories from StoryCorps (see here). And you also might want to visit Democracy Now to check out the special they did on StoryCorp producer/founder Dave Isay and the new book on mothers, complete with some audio from interviews.

This Sunday (May 9) celebrate Mom. Happy Mother's Day from us!
---
May 6, 2010

Gentleman Baseball Broadcasting Legend Ernie Harwell



He was one of the greatest baseball broadcasters ever, voice of a few different teams, but mostly for the Detroit Tigers. Ernie Harwell passed away Tuesday at the age of 92 and the accolades have been pouring in ever since for the Hall of Fame announcer. He was dearly loved and respected by many. Major League Baseball has a terrific tribute online that you should watch. Watch it regardless of whether or not you are a baseball fan. You will discover that this icon of baseball broadcasting was much more. He was a fine human being, a real gentleman that cared deeply for his family (married 68 years to his wife Lulu), his community, a mentor to others and someone who had deep faith. When he announced last year that he had terminal cancer he stated, "I know God is in charge".

For Harwell baseball was certainly the touchstone of his life - but his life was more than the fine summer game. And this is what I always try to encourage others to see about their own stories. Your career can be important. But what you do each day, how you live your life, who you meet and how your treat them along the way - this is your lasting legacy.
---
May 5, 2010
StoryCorps Historias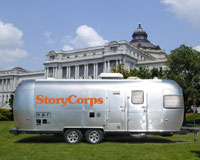 Today is Cinco de Mayo and appropriately enough I discovered some exciting news about preserving Latino histories for New Mexicans. StoryCorps will be bringing their traveling Airstream trailer (complete with a recording studio) to Albuquerque. It will be parked at the National Hispanic Cultural Center for 6 weeks (May 20 - June 26, 2010) and this is an excellent opportunity for Latinos to contribute to an expansive collection of stories being recorded in a cross-country tour. New Mexico has a very rich cultural history and many families can trace their ancestry to Spain, Mexico and Central America. Since I live in Albuquerque I am understandably excited about this.

The project will be co-hosted by the community radio station in Albuquerque, KUNM. During StoryCorp's stay they plan to collect 120 interviews. To make reservations (starting May 6 at 10 a.m.) call the toll free 24 hour reservation line at 1800-850-4406, or visit StoryCorps.org.
---
May 3, 2010

There's a Don Henley song that talks about "getting down to the heart of the matter". When you make the decision to tell your life story you are faced with a big task, because ultimately you need to get to the heart of your story. You want to gather your thoughts, mine memories and pass along the lessons of your personal experiences. I imagine you, like most people motivated to share their personal history, want to tell others what really matters to you.

To do that well is not easy work. Not everyone is cut out for the task. If you are able to write it yourself that may be best course because you know yourself better than anyone else. Nevertheless, not everyone has the writing ability or desire. But if you find someone whom you can trust – a good listener and a gifted writer – your story can spring to life from the pages of your very own book.

One of the questions I get a lot is how to start. Most people are unsure how to begin and the task a getting their life story in print is frequently intimidating.

Here's what I recommend first. | read more |
---