Personal Historians Are a Diverse Group

November 30, 2010



The emails have been flying back and forth at a furious pace by the members of the Association of Personal Historians. APH is an interesting group, to say the least! The thread that produced such a great outpouring was centered around what these people did before becoming personal historians. Apparently a bit of everything.

Many members came from fields you might expect like journalism, teaching, Television production and graphic design. There are also quite a few who've worked in the corporate world of management, advertising, copywriting and sales. But then there are those who've wandered a colorful path, from farmer to actor, anthropologist to clergy, choreographer to attorney, fund raiser, crisis counselor, librarian, tailor, photographer, songwriter...the list goes on and on. Two of my favorites were a one-time manager of a comic book store and a visual effects supervisor for Lucasfilm (George Lucas' Light and Magic).

This got me thinking about my own career path over the years. I had various odd jobs growing up (paper route, mowing lawns, fast food restaurants, short order cook), then a lengthy career as a radio DJ and program director. I've also worked with Internet Marketing, at call centers, in real estate and ministry. Now I'm on the path to certification as an elementary school teacher, but I'll keep doing personal history.

The diversity and eclectic background of APH members shows that many people have the passion to preserve stories. This may spring, in part, from our varied backgrounds. We've all got a few stories to tell of our own! You can find out more about the Association of Personal Historians here.
---
Massasoit Kept The Pilgrims From Starving

November 23, 2010

The Pilgrims who settled in the "New World" of Plymouth Rock in 1620 could have been a footnote in history - a colony that died off early because of the harsh conditions. But they survived, in large part because of the generosity of the Wampanoag - the indigenous tribe of natives led by Massasoit. He forged a peace treaty with the settlers and attended with his people the "first" Thanksgiving.

Massasoit was a peacemaker and our annual celebration each November - enjoying the "harvest of plenty" and giving thanks - stems from his willingness to make peace with those strangers from across the ocean, the Pilgrims. It wasn't easy for him to take this stance. Peace Talks Radio has a new episode, just in time for Thanksgiving, interviewing American Indian scholars Darius Coombs and Bob Charlesbois about that historic time. Chris Eyre, Native American film director and actor who portrayed Massasoit in the 2009 PBS series We Shall Remain, is also a guest. You can listen to the episode online here.
---
Michele Norris of NPR Memoir - The Grace of Silence

November 22, 2010

Chances are there are things you've kept to yourself and never told anyone - not even a close family member. I'm not saying all has to be revealed;some of it demands privacy. Yet some stories provide a glimpse into a person's character that is very powerful. Take for instance how Michele Norris, award-winning journalist and co-host of NPR (National Public Radio) All Things Considered, discovered her father had been shot by a white police officer in "Jim Crow" Alabama and kept that a secret.

Norris considered her father to be a model African-American as she grew up in Chicago. When she researched her memoir, The Grace of Silence, she discovered this family secret. She also wrote eloquently about the times when it is better to hold your tongue, times when others misjudge and assume, how racism runs deep and yet how dignity triumphs. There's an excerpt from her book and more here.
---
Saturday Evening Post Published Holiday Piece About Interviewing Family

November 18, 2010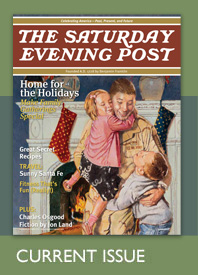 Another sign that personal/family history is becoming more recognized as important and viable to the masses is the piece in the current issue of the Saturday Evening Post. The article is about interviewing family members during the holidays and saving those stories - something I've encouraged many times in past years. Nice to see APH members getting recognized in this article, including Susan A. Kitchens who does a great job commenting on the article and how it came about. See her posting at Family Oral History Using Digital Tools.

Thanksgiving is just around the corner. Take some time to stir up the family stories and record them, write them down, or at the very least, get a conversation started!


---
Stories as Sacred Work

November 14, 2010

The gathering of stories, the preservation of personal history, the passing along of family values, traditions and legacy - this is all profound work. Sometimes I need that reminder. I need to pull back and look again at the "Big Picture" of what it means to be a personal historian.

There is a lot of detailed work involved in recording the experiences, events and meaning of another person's life. The hardest, and yet most rewarding, part of this work is crafting those stories into an interesting narrative. I love to read a good memoir. It helps me to find purpose in life when I connect with someone else and help them preserve their stories. And I enjoy writing. When I am able to accurately capture these experiences in the storyteller's "voice" it is a mission accomplished.

There is something profoundly sacred in this work. Dan Curtis, a fellow personal historian in Canada, reminded me of this with a recent post of his, As Personal Historians, How Do We Rekindle "The Sacred" in Our Work? I hope that you recognize it, too.

One of the key points Dan makes it to listen to our elders. For those who are interested in the spirituality of men and how men can become mentors and elders to other men check out malespirituality.org.
---
Where Do All the Old Web Sites Go As World Wide Web Turns 20?

November 12, 2010

Today marks the 20th anniversary of the World Wide Web, so named by British engineer and computer scientist, Berners-Lee. He coined the term but thought it wouldn't stick. Yet, here we are 20 years later with the same name.

Do you ever wonder what happens to old websites? Are they archived anywhere? It seems many are consigned to a "digital graveyard". A new British exhibition is attempting to preserve some of these designs, in a sense conducting an archaeological dig of the Internet. The exhibit, Digital Archaeology, has renderings of early sites along with video montages of interviews with the creators of these early web sites. More here.
---
Honoring Veterans

November 10, 2010

November 11 is Veteran's Day - a day we mark each year as one to remember and honor our military veterans. I never think of it as "honoring war", but rather recognizing the great sacrifices our men and women in uniform make.



The Veterans History Project (VHP) makes it possible to record the stories of our veterans. It was set up by the Library of Congress and the Association of Personal Historians is an official partner (more here). The VHP has been featured as a Highlight Site with us - go here to see. And remember to thank a vet tomorrow.
---
The Mark Twain Autobiography 100 Years After His Death

November 8, 2010

Mark Twain, the great American writer and satirist deom Missouri, made several attempts at getting his thoughts down in an autobiography. Apparently he discovered at one point how much better it went when he could dictate into an early recording device. He also found that for him it worked best if he could start at no particular place in life and wander freely about for whatever interested him about his life at the moment. Interesting. I think this technique is worthwhile.

One of Mark Twain's directives was that some of his writings were not to be released until one hundred years after his death. That's this year. So the "official" Autobiography of Mark Twain (University of California Press) is coming out, a 700 page tome. You can actually read it online for free! Go to the Mark Twain Project.
---
Personal Historians Conference in Victoria



November 5, 2010

This year's conference of the Association of Personal Historians is now underway in magnificent Victoria, Canada. I'm not able to attend in person, but I'm regularly checking the Voices of the Elders website. The APH is a great collection of talented and mindful writers, video specialists, editors, transcriptionists, speakers, educators and life story preservationists. Personal history is the stuff of all our lives and we are at the forefront of a growing movement. You have a story to tell and need to tell it!
---
Write a Novel in One Month?

November 3, 2010

More than 200,000 writers across the world are expected to participate in this year's National Novel Writing Month challenge. It's the biggest number of writers yet to commit to the annual challenge by NaNoWriMo.

National Novel Writing Month is an international event where writers attempt to hammer out a 50,000-word novel within the designated 30 days. I'm not sure I'm up to the challenge, although I have an idea of what to write about. Yes, even personal historians like to write fiction! Perhaps as Antonio Sanchez of the University of New Mexico's Daily Lobo suggests, I should Stop thinking; start writing.
---
Saying Goodbye Before, During and After Death

November 1, 2010

All of us at some point deal with the death of a loved one. Sometimes we see it coming, a terminal illness or injury. At other times it is sudden and rocks us to the core. Most of us don't like to think of our mortality, or that of family members, friends and loved ones. But the grief we feel (which we all do and must be processed) is greater if we haven't had the opportunity to "say goodbye" - to really communicate our values and love.

One of the reasons I've been drawn to the work of personal history is to help people realize the importance of communicating their life stories, including values and important messages, before they die. I've been blessed to work with people in this fashion. In fact, I'm in the midst now of co-writing an eulogy for a man who died yesterday. He was a charismatic and extremely talented entertainer, but he was also a loving father and husband. His daughter approached me three years ago to help write tributes to her mother who had just passed, and when her father became ill this year she contacted me and we've been working together the past few months to preserve her father's legacy. What an honor.

There are others who doing great work in this area. I'm currently reading Your Legacy of Love: Realize the Gift in Goodbye by Gemini Adams. This British Grief Expert hits on some key points in her book, especially about the emotional assets that are far more important to most of us than financial assets. You can visit her website - Realize the Gift.

Don't wait too long to begin the process of saving your personal history. And when the time comes to face death - your own or that of a love one - do it with dignity and foresight.

PS - Perhaps you'd like to see what I wrote when my mother passed away in 2006. The article is Opening Death's Door.