Ringo Starr Memoir - Photograph
September 28, 2013
I find it interesting that as I've been learning more about photo books and how to utilize your pictures with your story I suddenly come across a story about Ringo Starr releasing a memoir that utilizes many of his photographs from his private collection.
Photograph
(Genesis Publications) was released in June as an interactive e-book and the hardbook printed version will come out in December. The photos featured come various stages of Ringo's life, from early childhoood through the Beatles' days and into later life. One of Ringo's solo hits was titled "Photograph", so it makes sense to name this memoir and photo collection by the same title.
According to Ringo Starr these are shots no one else could have and he is sharing them with the public with modern technology (the e-book version allows you to zoom in on photographs and listen to audio clips of Ringo narrating related stories). This is yet another fine way to tell a story. More about the project at
Ringo's official website
.
---
Photo Stories
September 25, 2013
Every picture tells a story and telling your story with pictures from various stages of your life has become a very popular way to preserve memories.
If you search the Internet for photo books you will discover a number of options. While I am no expert on these various providers it appears that there are many affordable and easy-to-use choices. A few options include
Mixbook
,
Smilebox
,
Snapfish
,
Picaboo
and
Shutterfly
.
While I focus mostly on the written narratives in my life story work, I do believe photographs aptly placed throughout a printed memoir, autobiography or family history is important. The pictures can transport you back in time or create an emotional bond to a story. Spectacular sights, such as a great sunset or breathtaking view, can inspire and delight. ecently I snapped this picture on an early morning walk with my dog, Shadow. I love how the sky is painted with the pink, orange and yellows across clouds bathed in dawn's early light. My iPhone actually did an impressive job of capturing this view.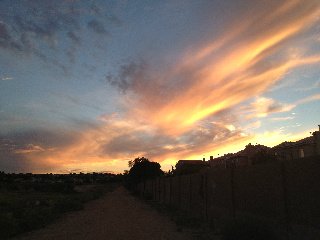 You can read more of this article as well as the other content from the latest
Your Life Is Your Story
newsletter. It's
online here
. You can also
subscribe
to have our newsletter sent to you free.
---
Colorado Family Portrait Recovered in Flood
September 20, 20013
The flooding in Colorado has resulted in the loss of lives or homes for some. That is a great tragedy, to be sure. But for those who have survived, there can still be loss, such as treasured possessions. In light of this, I came upon a remarkable story, thanks to an email from fellow
APH
member, Ruth Elkin.
Evelyn Starner was swept away by the flood waters. But her family has a portrait that included Evelyn thanks to the quick action of another woman who rescued it from the muddy waters. The family lost their mother, but they have this valuable piece of family history.
Read about
this amazing story.
After Hurricane Sandy many people were faced with trying to restore storm battered photographs and personal historians sprang into action. Now similar efforts are underway in Colorado. I found out through yet another APH member, Mary Danielsen, how photos are being rescued. Couragent, makers of the Flip-Pal portable scanners, along with members of the Memory Preservation Coalition, have been establishing photo rescue centers where families can work to clean, dry and scan their wet family photos. More information
here
.
---
Be Prepared With Your Getaway Kit
September 16, 2013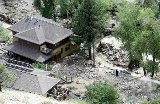 The
flooding in Boulder, Colorado
and surrounding areas reminds us once again of the need to be ready to "grab and go" with a kit of essential documents and items that would be tragic to lose in a natural disaster. In addition to things like passports, birth certificates and wills just about everyone owns sentimental items that you would be heartbroken to lose. These can include things like photographs, especially wedding albums, but could also include press clippings, jewelry and family heirlooms.
The getaway kit doesn't have to be huge. In fact, it should not be bigger than something you can quickly grab and go with in times of emergency (think flood, fires, or other natural disasters). Keep it where you can readily get at it (hall closet or someplace safe, secure but easily accessible).
In July of this year Annie Payne's excellent article on this subject (
Is Your 'Grab & Go' File Updated and Ready?
) was rerun on the
Association of Personal Historians
blog. Give it a read and follow through on her excellent tips.
---
Underground to the September 11 Memorial Museum
The National September 11 Memorial & Museum
will officially open in 2014. But today as we observe the 12th anniversary of the terrorist attacks that happened on this day in 2001, I thought you might want to know a bit about this museum.
The museum will be housed underground, below the surface where the twin towers in New York City once stood. It is sacred ground and so a fitting place to have a museum and memorial. Already above ground are the
September 11 reflecting pools
, one in each of the footprints where the buildings once stood. I visited them in July of 2012 and it was a moving experience. Below ground the museum will house artifacts and will chronicle the history of that tragic day.
"Every artifact in the museum has a story to tell," according to museum director Alice Greenwald. "Whether monumental pieces of steel structure from the twin towers ... or intimate objects like a watch worn by a passenger aboard one of the hijacked planes, artifacts have the power to connect us to history with an unmatched immediacy."
We live in a post-9/11 world. It's different now; the heightened awareness of terrorism is a fact of life. Prior to September 11, 2001 most US citizens didn't think about these kind of events happening on American soil.
This
article
from the
New York Daily News
gives you more insight into this museum. My opinion is that it is fitting that visitors will descend stairways below the surfact to visit this museum and memorial. Original stairways are part of the path and should put you in the proper reflected mood as you visit, remember and pay tribute to all those affected by this unfortunate day in history.
---
Happy Grandparents Day
September 8, 2013
Today is
Grandparents Day
and for anyone who is a grandparent I applaud you and thank you for all you do for both your children and grandchildren. My life is certainly enhanced now that I am a grandfather. I have two grandchildren, Jacob and Sophia. They are both young and as any parent of children under four knows, that can be a lot of responsibility. Helping these young children is both a service and joy for myself and my wife.
Grandparents can sometimes get funny names. Me-mow, Nana, Po-po. I was told that my grandson would name me, regardless of what I suggested. And that's turned out to be true. I am Pawkin to Jacob. I've never heard any other grandfather with that name and I kind of like the uniqueness.
For more information about Grandparents Day visit this website:
grandparentsday.org
and do something grand!
---
Lava Lamps Turns Fifty
September 3, 2013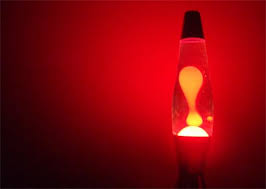 On this day in 1963 lava lamps first went on sale. Invented by Edward Craven Walker in England, they became a fixture for the groovy and psychedelic '60s and really exploded in popularity in the 1970's. I still think they are cool. And they are still being made and sold. Check out
lavalamp.com
to see various models and learn a bit of history about these lamps of gooey floating liquid light.
---
Association of Personal Historians Annual Conference Set for Washington D.C.
September 2, 2013
I picked the Labor Day holiday to update you on the annual conference of teh Association of Personal Historians. This works on two levels. The 2013 conference will be November 8-13 in Washington D.C. Labor Day is a National Holiday and Washington in the United States Capital. Also, in case you are trying to find the type of work that holds great meaning and is very rewarding on so many levels, you might be interested in working in the field of personal history. It continues to grow and there are so many opportunities. If you like to interview people, have an interest in history and people's stories, love graphic design, the use of technology and have an interest in preserving life stories you might be well-suited to the field.
But it does take dedication and hard work. The APH is a great organization to help aspiring personal historians. Their annual conferences are a superb way to learn, network and have fun. The 2013 gathering will be held in Washington D.C. The nation's capital offers a vast array of institutions to visit such as the Library of Congress, National Archives, various monuments and museums. You can get more information
here
.