You are Important and So Is Your Family History
March 31, 2015
The series,
20 Reasons Why You Should Write Your Family History
, continues with reasons #3 and #4. They are related because they both state how
you
are important, as a person unique in time and history that has a perpective no one else has, and you are
important to others
, such as your family. Some of those family members will be alive in the future and you may never meet them, but they could find out about you through the personal history story you leave for them.
Check out the posts on the
Association of Personal Historians
Blog
.
Reason #3
was written by Jill Sarkozi and
reason #4
byJane Shafron. They make powerful points about the importance of our life stories. I am looking forward to the next post this week. I also wrote about the series in the latest
Your Life Is Your Story
newsletter, available
online
.
---
Throwback Thursday - Long Strange Trip Maker
March 26, 2015
Today's
Throwback Thursday
blog post comes from March 20, 2011 when I wrote about how Owsley Stanley, best known as the outlaw chef of primo acid (aka LSD) had passed away.
Owsley was also closely connected with the Grateful Dead. That band has been incredibly influential on a lot of lives and many excited Dead-heads will be in Chicago this July for the
Reunion Shows
of the four core remaining Grateful Dead members. The "Fare Thee Well" shows will feature Trey Anastascio on guitar. It was 20 years ago this July that the Grateful Dead played their last shows prior to the death of their lead guitarist, Jerry Garcia. The virtuoso guitarist from Phish will play lead on these shows and the anticipation is high. The shows have been long sold out.

Owsley had an interesting life and certainly the Grateful Dead are a fascinating part of the American music scene since the 1960's. Check out the original March 20, 2011 post
here
.
---
Spiritual Biographies Can Inspire
March 24, 2015
If you have ever read a biography, memoir or life story about a saint or a person who has been on a spiritual journey you probably recognize the power of those stories to inspire. This inspiration is a great benefit of any well-told life story that includes how a person has dealt with matters of faith.
I've read and been deeply moved by
Story of a Soul
and
The Seven Storey Mountain
, autobiographies by Saint Therese Lisieux and Thomas Merton. And there are many others, both recent and from even hundreds of years ago.
I know I am not the only one who thirsts for such stories. I regularly get emails from people inquiring how to go about writing their own stories of their spiritual journey. For that matter, my own story includes many instances of faith. It seems to be a frequent theme for many. I find that writing or reading about the spiritual angle of a life helps me relate to the greater mystery of life. Plus, it encourages me to continue my own journey, to even go deeper.
I have felt this way about life stories for some time, but today reading yet another article on the theme (
Biographies are one way to delve into stories of spiritual life
by Heidi Schlumpf, March 21, 2015, National Catholic Register) it seemed like a good opportunity to touch again on this subject. Additionally, I just came off a four day men's retreat and I have been stirred in my soul.
Consider the value of your story. Writing about your life can yield real health benefits as well as spiritual wellness and insight.
---
Throwback Thursday - Right Time to Tell Your Story
March 19, 2015
It's that day of the week and time for another of my
Throwback Thursday
posts. This time I bring you back to a post I wrote this time last year. It was March 10 of 2014 and I reflected on the importance of preserving our stories (an ongoing theme with me), but not waiting too long to do it. This is because someone I'd worked with had just passed away.
|
keep reading
|
---
Your Story is Your Contribution to History
March 17, 2015
The history we study in schools and see unfolding in media is important. We want to understand the world we live in and how past events have contributed to the shape (for better or worse) that we are in. But each of us has a personal take on life and it your story that is your contribution to history, both your personal and family history, and its connection to the world at large.
Today is St. Patrick's Day and it is one of those holidays often filled with merriment and partying. It is also a day when we reflect on the contribution of the Irish to history, even though Patrick was technically British. His heart was open and loving to others, including even the Irish pirates who took him captive and enslaved him in Ireland. He escaped six years later, but his love was so great that he eventually returned to Ireland to spread the Christian message of love and forgiveness. He is widely considered the patron saint of Ireland.
Just as Saint Patrick greatly impacted Ireland it is quite possible that your personal history and life story can make a big impression on your friends and family. And your account of your life, be it a memoir, diary, journal, letters or other means of documenting that "you were here" becomes part of history. In
20 Reasons Why You Should Write Your Family History: #2 First person narratives are important historical documents
, Joan Tornow further explores how first person narratives become important historical primary sources.
---
Uncle Arnie at Ninety
March 15, 2015
A couple of days ago my uncle, Arnie Galbraith, turned 90. I wasn't able to travel to attend the celebration, but I understand it was a good one. Arnie was married for over 60 years to my Dad's sister and my aunt, Lois Anne. A tremendous couple, loving and active with a real zeal for life. Lois passed on three years ago, just a few short months after Dad died.
My cousins in the Galbraith family are wonderful people, a true reflection of their parents. Terry passed away last year, but Wendy, Donna, Peter and Tim were able to celebrate Arnie's birthday and they are all featured in this picture from the birthday get together.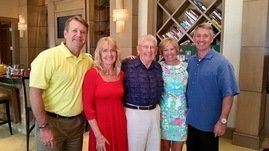 Celebrating milestones is part of family history and I hope you get an opportunity to do that. My sister here in Albuquerque teamed with me on a collage book with tribute for Arnie and it was fun to look through pictures and reminisce.
The opening lines of my tribute to
Uncle Arnie at Ninety
are: "Ninety. It's a good sounding number. Solid, substantial, with depth and longevity. It speaks of years of life experiences. For most it would be a good golf score. Catch a 90 pound bass, well, that would be a heck of a fish story. The basic numbers are 1 through 9, so any quantity that begins with 9 means something. It's the 'Daddy' number of the main digits."
I then went on to write about some of my memories of Uncle Arnie, his qualities, and the time at Lake George when he rescued me and my son when I accidentally flipped over the rowboat. A harrowing situation that I look back on now with a mixture of embarrassment and gratitude.
Hopefully you consider the milestones in the lives of your family. Family history is important for us, both to
consider it in the context of world history
, and for the place it has in our personal histories.
---
Throwback Thursday - Jasmine, the Caretaker Dog
March 12, 2015
Back in March of 2010 I wrote about a dog who has gained fame for her great maternal instincts. Not only is Jasmine a great loving dog to other dogs, but other species of animals!
From that March 18, 2010 post: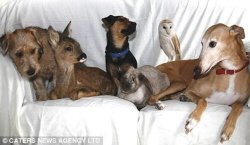 Those of you who are pet and animal lovers will love the story of
Jasmine, the caretaker dog
(photo © Caters News Agency Ltd). This dog is known as a mother surrogate to many other rescued animals. Jasmine was rescued herself and her maternal instinct is incredibly strong. As documented in
this article
from the
Daily Mail Reporter
from December 31, 2008.

Continue reading
---
Personal Historians Give 20 Reasons (and more) For Writing Your Family History
March 11, 2015
Count me in the group that strongly encourages people to preserve their personal and family history. There are many reasons for this (scan a few of
my articles
over the years and you'll come up some compelling ones). How much do you know about your family, especially as you go back a few generations? Do you know the names, birthdates, hometowns and occupations of your great-grandparents?
A librarian, Carmen Nigro, posted on the New York Public Library blog
20 reasons
why she thinks people should write their family history. Inspired by the post some members of the
APH (Association of Personal Historians)
are
weighing in on the twenty reasons
, adding their professional insight. The series is just underway with reason #1,
You'll feel wiser
by Susan T. Hessel.
---
Throwback Thursday - March, 2008 and the Magical Memory Tour
March 5, 2015
Throwback Thursday
has become such a popular thing on social media that I decided to start up a feature of my own. On Thursdays I will now dig back into the archives of my website postings and spotlight something I found interesting "back in the day".
For this posting I found something I wrote about on
March 13, 2008
. It was about how music jars memories and an online survey that was being conducted by a group of British scientists to test that memory link. They called it
magicalmemorytour.com
and that link is still valid. Plus, you can revisit the story posted at
theStar.com
.
---
Leonard Nimoy's Prosperous Garden Life
March 1, 2015
Upon hearing the news Friday (February 27, 2015) that
Leonard Nimoy had died
I began contemplating writing a blog post. I'd grown up watching
Star Trek
, especially every day in my college dorms TV room my freshman year. I'd become quite a fan in high school, so it was natural to gravitate to others who shared a passion to "boldly go where no man has gone before".
Nimoy played Spock, the half-human/half-Vulcan enigmatic and logical being with the remarkable eyebrow arch and calm in the face of galactic disaster disposition.
But Nimoy was so much more than the actor who played Mr. Spock. He was sensitive, artistic and reflective. A tweet he posted in his last week has been circulating:
"A life is like a garden. Perfect moments can be had, but not preserved, except in memory."
What a great quote for life story enthusiasts.
As I was scanning the internet, reading obituaries and tributes, I came across Michelle Sullivan's
Leonard Nimoy Lived Long and Prospered: A Wealth of Memoirs Remains
. It pretty much captured what I wanted to write, so I direct you to her wonderful post on the
Association of Personal Historians
blog.