---
Fred Sands, Real Estate Mogul, Gave Southern California Hard Rock Opportunity with Radio Legend KNAC
October 30, 2015
One of the things I find amazing about our lives is how we can intersect and connect with a wide variety of people over the course of a lifetime. In 1987 I took a job in Long Beach, California as a program director for an up-and-coming hard rock radio station. KNAC was a relatively low power FM (3000 watts) trying to compete in the crowded Los Angeles radio market. We were up against some "big boy" radio stations with lots of power and resources. KNAC needed something that would get attention, and hopefully, enough ratings and audience support to be successful. The general manager, Gary Price, was pretty sharp and saw an opportunity for a radio station that catered to the young people in the area who wanted to hear more hard rock and heavy metal bands, like Iron Maiden, Guns 'n Roses, Ozzy Osbourne, Metallica and the like. It was good timing to develop that format and KNAC gathered cult status and became somewhat legendary. It was fun working there.
Every radio station has an owner. Nowadays most of them are big corporations. In 1986 KNAC was owned by Fred Sands, a king of high end real estate. He was making good money and Gary Price sold him on the idea of the hard rock format.
Fred Sands passed away last week at the age of 77. Even though he moved on from the LA Real Estate scene he always stayed working and involved. He sold his California business for more than $100 million and started focusing on rebuilding and rebranding distressed shopping centers. I was suprised to learn from the
LA Times article
about his death that he was responsible for turning around an Albuquerque project. Albuquerque has been my home since 1997 and I also lived and worked here in the 1980's before moving to Southern California.
Some people gain a certain amount of notoriety and success in life. And you might never suspect who they help in life. Others don't get the notice, but have lived significant lives just the same. I was reading about a gentleman, George Webster, featured in
this cowbird.com story
. The 80 year old cowboy reminisced to Daniel Davis about his life and seemed wistful abou the events of the past 50 years. His memory was sharp, but he hadn't had much of an opportunity to make his story known. Now, maybe more will discover his tale.
Our lives matter. We are all on a journey and we touch the lives of others on our travels. The importance of preserving our stories cannot be underestimated.
The passing of Fred Sands puts me in a reflective state about an important time in my life. Thirty years ago I was part of a special time in radio with a great group of people. It isn't likely to be repeated in my lifetime, but it is part of my story. Coincidentally, I was interviewed about the KNAC days just a couple of weeks ago for an upcoming documentary to commemorate the launch of the station in January of 1986.
---
International APH Members Make the Long Journey to Sacramento
October 26, 2015
The annual conference for the
Association of Personal Historians (APH)
just concluded in Sacramento, California. This is the 20th year for the organization so the gathering was extra festive and special for attendees.
The majority of members reside in the United States and Canada, but one group traveled farther than most. This was the small International contingent who attended, including members from Israel, Brazil and Australia. The intrepid Annie Payne (
History from the Heart
) is a long time member who has been very active working with people to preserve their history and also volunteering a great deal of her time helping other personal historian members of
APH
. She wrote an interesting blog post,
APH Conference: The Travels of International APH Members
. Despite the many miles traveled and the fatigue of jet lag, these world travelers are appreciative of the experience to gather with other like-minded "life savers".
---
The Power of Sports Stories
October 25, 2015
I published the
October newsletter
a couple of days ago and the featured article is about sports stories and how they can be a powerful part of your legacy. I get satisfaction from playing some sports as well as following sporting events. Maybe you do, too.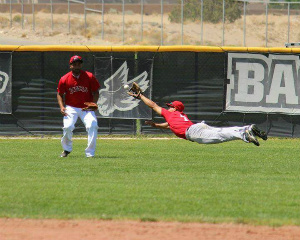 Whether it is the high school basketball team. playing baseball, recalling the comaraderie of teammates, or
running your first marathon
, athletics and sports can help shape our life stories. I always think it is a good idea when writing about your life that you pick themes and do some focused writing around how that theme has played a role in your story. Your sports and athletic legacy is a good example of this.
Check out the article,
Sport Stories - Your Legacy of Athletics
, and see if it resonates with you. There could be some good insight in this article to inspire you and your life story.
---
Nobel Prize for Literature Goes to Oral Historian
October 18, 2015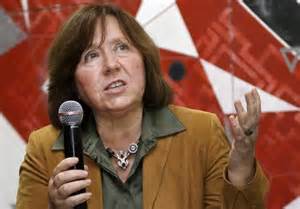 There has been some controversy regarding the recent announcement of this year's Nobel Prize for Literature (
"for her polyphonic writings, a monument to suffering and courage in our time." - press release)
. Some purists don't consider the work of Svetlana Alexievich to be literature because she's primarily a journalist who has conducted extensive interviews and recorded the oral history of a range of people, including soldiers who fought in Afghanistan and survivors of the Chernobyl nuclear disaster in Russia.
But as the secretary for the Nobel committee noted, she documented more than a history of events. She has given us a history of emotions. Just as great literature helps us appreciate the wide range of human experiences, Alexievich's insight into these people's stories goes beyond typical journalistic reporting. She's writing about the memories of people who have experienced some pretty epic events. And just as great memoir can stand alongside great literature, so can the documentary of experience.
This is a brave choice by the Nobel committee and something of a validation for people who work to capture the personal history of people. A post about this by Fran Morley,
Personal History: Nobel Prize Honors Oral Historian Svetlana Alexievich
, is worth a read and then you should think about the important contribution Alexievich has made to the human story.
---
Personal Historians Helping Preserve the Diverse
October 17, 2015
In just a few days the annual conference for
APH (the Association of Personal Historians)
will convene in Sacramento, California. This year the "Life Story People" will gather October 21-25 under the theme
Cultivate and Thrive
. The mission of these personal historians includes reaching out to people of diverse cultural backgrounds. Preserving their stories is important to all of us as it helps us understand that all stories are important. Some are not known as well as they should be. A good example is the history of Asian Americans.
During World War Two many people in the United States of Japanese descent were sent to internment camps. Although they were not the enemy, they seemed to be treated that way. Likewise, many Chinese laborers who helped build the railroads in this country in the late 1800's felt the brunt of prejudice despite their hard work and contributions. The APH conference will explore some of these stories.
A
blog post
by Lynne Uyeda (an APH member) gives great insight into the importance of reaching out to Asian Americans and other underserved communities to gather and preserve their stories. Knowing the stories helps connect us. We can learn from each other and expand our appreciation for varied cultures.
---
How the New York Times Posts Timely Obituaries
October 8, 2015
We live in an age of instant information. Digital delivery has us expecting to know important as soon as it happens. When a prominent person dies that could be a problem for obituary writers. Maybe you didn't know this, but most major publications, like the
New York Times,
actually have the bulk of an obituary for famous people already written. They have to do that research and writing ahead of time. It is time consuming to put together prose that pays proper tribute to the length and breadth of the famous.
One of the most viewed recent obits from the
NY Times
is the Bruce Weber 3,200 word
tribute
when Yankee great and cultural icon Yogi Berra passed. It had to be quite an undertaking to compose because Yogi was the kind of personality that impacted more than baseball. Not everyone gets quoted for witty statements or has a cartoon character named after them.
When Death Comes, and the Obituary Follows
is an interesting story posted by the
Times
that gives you a behind-the-scene look at how they prepare obituaries. When you read it I hope it gets you considering the importance of your own life story, or that of a loved one. It's not morbid to do some preparatory work on obituaries. Despite the "not dead yet!" Monty Python line that might spring to mind, researching life accomplishments and noting the significance of life events can save you time when death comes for a family member and you want to pay tribute. And you are probably in a better frame of mind to do the research and writing before the news of a demise. Of course, personal history writers are willing to help you, so you might consider hiring one for the task.
---
More Baby Boomers Are Writing Memoirs
October 7, 2015
More and more baby boomers are at that point in their life where they realize that they've had quite the life adventure and they want to preserve their experiences. How you go about it is a question worth spending more than a couple of minutes contemplating.
Because I am a writer and personal historian I think about memoirs, family history and people's stories all the time. It's constantly on my radar. You, on the otherhand, may have give it
some
thought, but there are plenty of other things demanding your attention. All that "life stuff".
But the story still needs to be told. That "life stuff" includes some signifcant experiences. Perhaps you can take your cue from some of the people mentioned in the article,
Aging boomers spur trend in memoir writing
by Erin E. Arvedlund of the
Philadelphia Inquirer
. I found the article yet another validation for the importance of anyone preserving their life story, especially those who've realized their lives matter. All lives matter, and when it comes to yours, probably more than you know!
Read the article and give some thought to the idea of a memoir or life story. Then spend some time with the
articles
I've written and posted for free. You might also want to check out the
Association of Personal Historians
to learn more about what it means to save your life...story!
---